Discover...
TRIO awnings offer superior quality, longevity and comfort… these are the results of choosing only the best components and manufacturing processes.
» Fabric
100% acrylic - 280 gram per square meter
The quality of an awning is mainly due to the quality of the fabric - its lifespan depends upon this. We only use a 280 gram per square meter acrylic fabric.
High quality, flexible, well ventilated and especially strong, this fabric is extremely resistant to friction and is exceptionally waterproof.
» 100% Dope-dyed fibres
The colours of our awnings have a very long lifespan as the individual fibres are dyed prior to production.
You can therefore use your awning for many years in all possible weather conditions. Sun, light and humidity will not affect its appearance.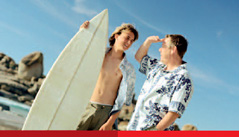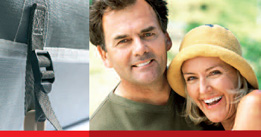 » Seams and zips of exceptional quality
The extra care given to seams and zips guarantee strength and waterproofing. YKK zips are fitted to our entire range.
» Flag stitched straps
Straps have been flag stitched to give the utmost strength when the awning is erected.
The outer seams are reinforced inside the awning with 450 gram per square meter PVC, making the complete assembly tear-proof. (Colorado and New Mexico)